Each water project we implement is unique. They demand a specific set of requirements that affect duration of construction, budget, and location. Our water projects in Afghanistan range between $4,000-6,000 and are managed by our project manager: Dr. Suliman Nessary. Projects include preliminary research, groundwork implementation, and post-work maintenance. Our projects are designed to unify, to build community. We don't just build water wells, we build relationships.
2018 - Dehsabz Village - in honor of rania
Rania was a young soul who passed away in August 2018. While her life came to an abrupt end, it was a life lived with purpose. Her family and friends believe the best tribute to her life was to serve others. They built a project in the village of Dehsabz that consists of over 60 families and is built on the grounds of a school of over 1,000 students to honor Rania's legacy as an ongoing charity in her name.
2018 - Kalakaan - The Eshanzada Family
Roya Eshanzada reached out to build a water project on behalf of her young children, Faisal, Yasameen, and Ibrahim. They wanted to be able to give back to children across the world they had never met. Their water project serves a community in the Kalakaan: Saeed Abad area. There are over 200 families that live in this area and the water well is located on a roadway with high walking traffic, including boys and girls going to school. We hope that this provides them everlasting hope from children just like them that live half way across the world.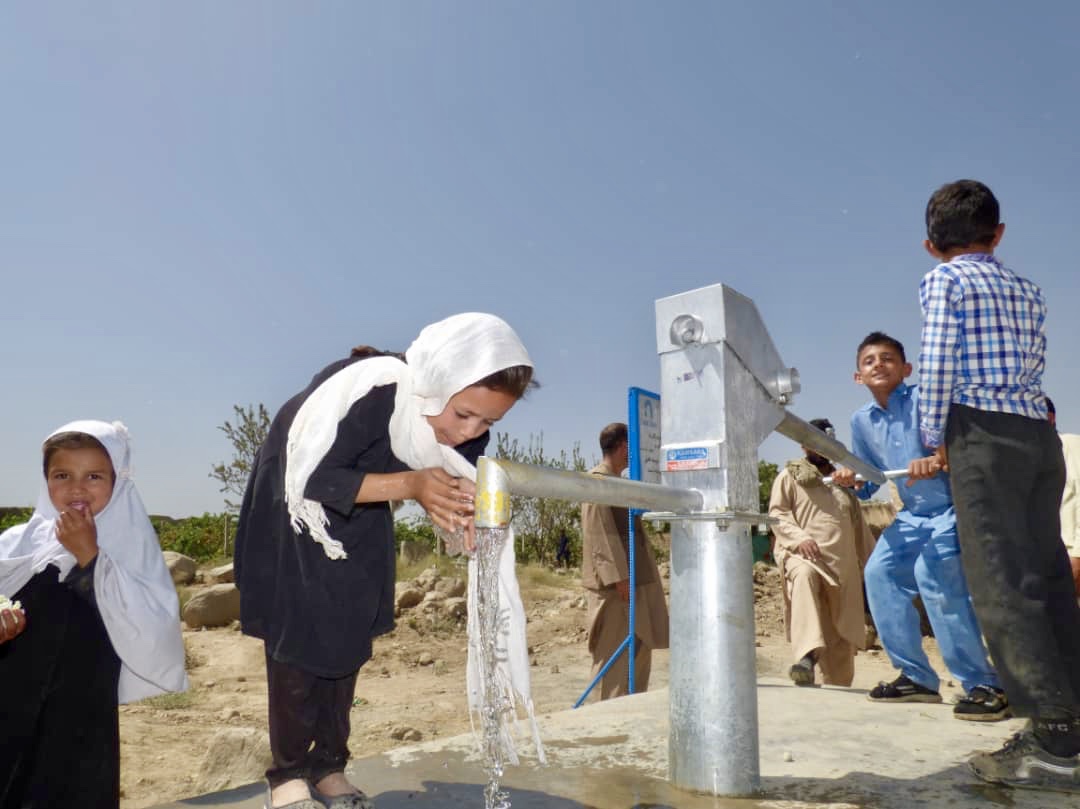 2018 - Qara Doshman - Azra B.
During Ramadan, a thought came across Azra after contemplating ways she can serve those in need during the blessed month, 'Why would I wait for my friends or family to build a water well project on my behalf after my passing?' It was a thought that she was very passionate about. Her originally being of Pakistani/Indian descent, did not matter. She wanted the water project to benefit men, women, and children in need, regardless of the location. Her project serves over 300 families in the Qara Doshman area of Kabul, as well as, the local mosque in the area. This water well project is a reminder that when intention and purpose are clear, The Almighty will find a way to deliver.
"If a man were to give one dirham in charity when he is alive and in good health, that is better for him than giving one hundred when he is dying." - Abu Sa'eed al-Khudri
2018 - Dehmurad Khan - in honor of Omar Jibril
On September 30, 2008, Omar Jibril, an international student from the UAE with no family in the States, was on his way to school at De Anza College in San Jose, Ca. It was the last day of Ramadan. On his way to school that morning, a driver struck Omar's motorcycle at an intersection. At the tender age of 21, Omar passed away at the hospital due to brain trauma. Before the 10-year anniversary of Omar's passing, his family and friends decided to come together to build water projects in Afghanistan and Rwanda. This water project serves the Dehmurad Khan village of Kabul, which houses over 150 families, including students from our Imam Bukhari Orphan Education Center, nearly 6 miles away.
2018 - Pul e Sangi - Abbasi Family - Wells for fred
Hajji Faridullah Abbasi was a young man who had his entire life ahead of him. He affected those with his smile and presence that is felt even after his passing. These 2 projects were completed on May 8th, what would have been his 33rd birthday. The Abbasi family came together in remembrance of their son, brother, cousin, uncle, and friend by making sure that same smile and presence was felt by thousands of men, women, and children in the villages of Afghanistan. June 7th 2018 marks the 10-year anniversary of his passing, but his legacy will live on forever.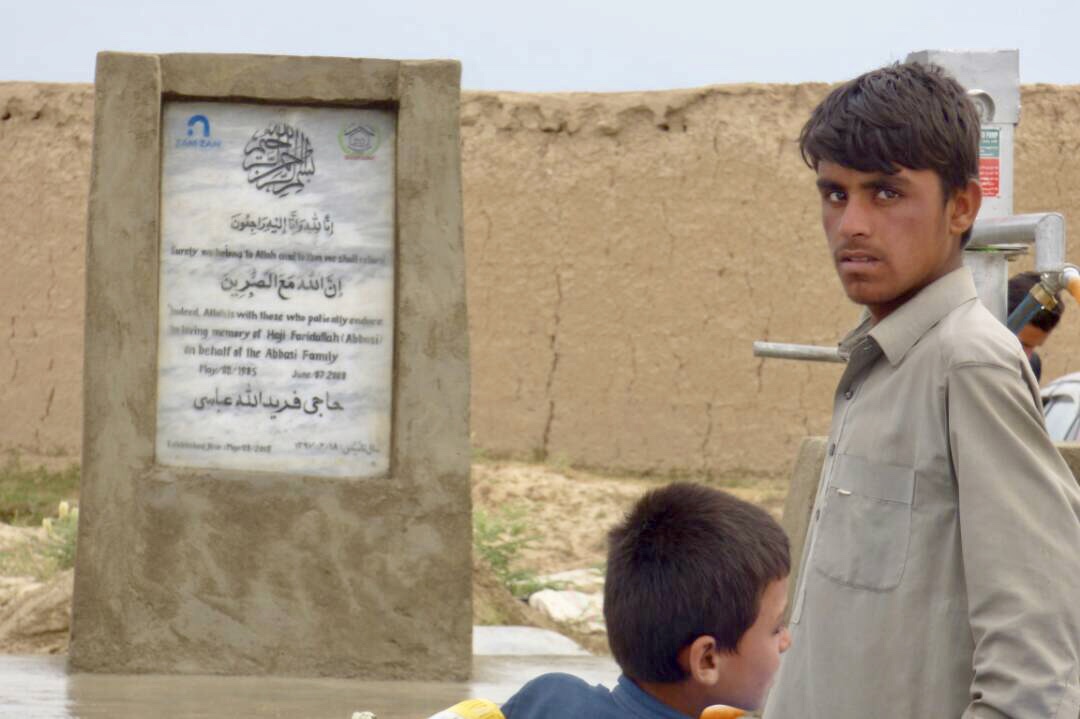 Dasht E Barchi - Wells for fred cont'd
2018 - Kandahar - Akbarzadeh Family- well for Shakoko
Sadaf Akbarzadeh has been a proud Zam Zam board member and contributor for almost 3 years. After her dear grandmother passed away to meet her Creator, she did not hesitate to honor her in the best way possible. Sadaf's family members and loved ones came together to build the very first water project for Zam Zam in the province of Kandahar in the Kolce village. The water project serves a community of over 25 homes and is built next to a mosque so that members may use the water to cleanse themselves and be able to pray. Those prayers are now reserved for Parween Shakoko Akbarzadeh and may they all be accepted.
2018 - Dasht E Barchi - Sharifi Family - Well of Hope
Mohammad Akbar Sharifi and Aaruzo Arif wanted to commemorate the birth of their newborn daughter, Rayyan Zohal Sharifi, with a gift that would last a lifetime. Through their generosity, they funded a water project in a village where children like Rayyan, can grow up without having to worry about having access to clean water. One day, Rayyan will be able to visit this project and get to know those who have benefited from the Well of Hope.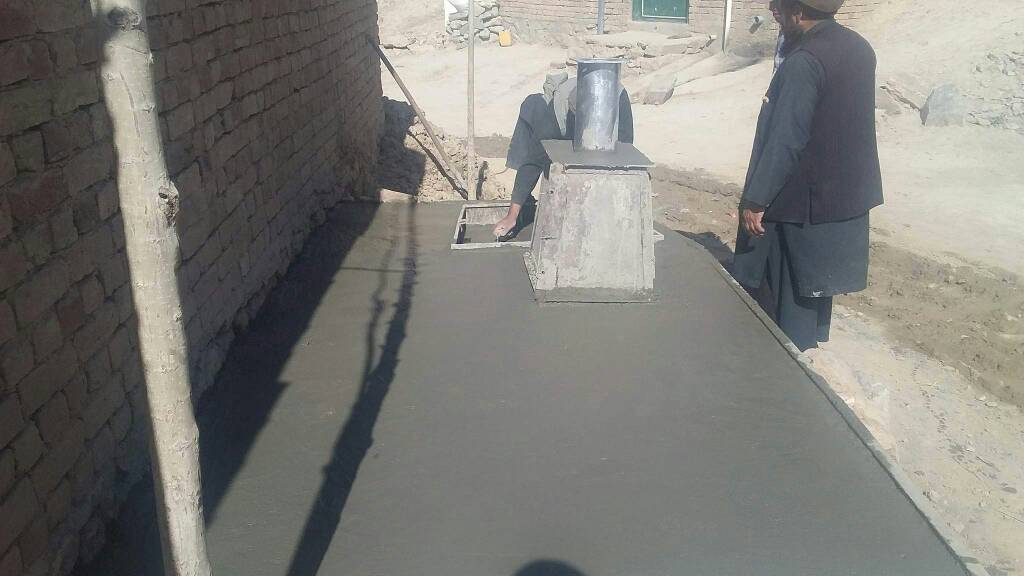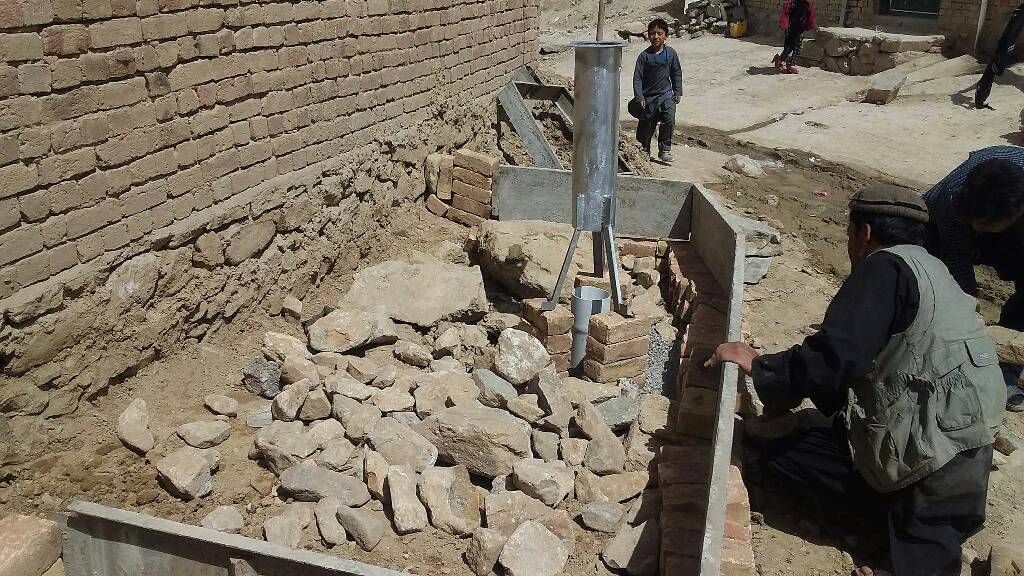 2018 - Dasht E Barchi- Nader Kawash
Nader tragically lost his life on January 2nd in a car accident. According to his family, 'Nader was blind to the differences among us - things that would separate people. He saw everyone as the same and everyone deserved to be treated as equals'. Putting that ideology into action, his family, friends, and loved ones raised funds to contribute to a village in Afghanistan. In his honor, hundreds of men, women, and children will have access to clean, sustainable water. Nader's community also contributed to funding two water projects in Rwanda. "He was always smiling. He was a hard worker. For him it was work, family and the community".
2018 - Dasht E Barchi - Matin mesdaq
March 6th, 2018, marked the 2-year anniversary of the passing of Matin Mesdaq, a young man whose life was suddenly taken, but his sister Zala and her family wanted his memory to be etched in history forever. In his honor, the family has invested in the people of the community of Dasht E Barchi, one of the most marginalized communities in all of Afghanistan by providing them with clean water. This project is over 40 meters deep and serves 150 families with clean, fresh water.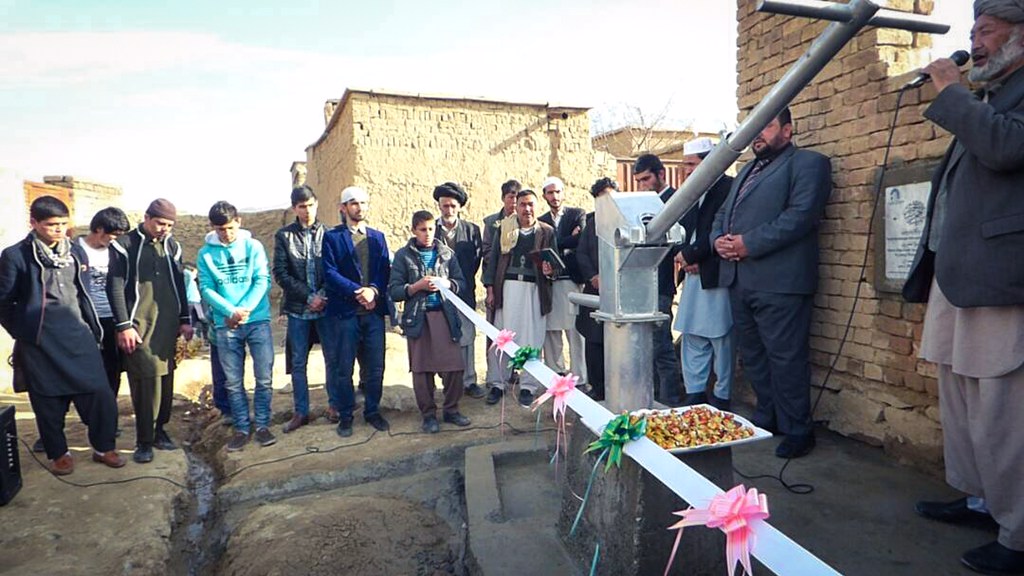 2017 - BAHADOR KHAN CHARDEHI Village
Dr. Zabi Nessary and his family came together with a group of young Afghan-Americans in the Washington D.C. area to fund a water project for a mosque and surrounding village that serves over 600 families. The water project is over 45 meters deep and allows the patrons of the mosque to use it to make wudhu and the villagers for their daily needs. The project itself is powered by an electrical source due to the water well being so deep.
2017 - Ghaibe Village
In honor of, Sister Nadia Marouf, and her grandchildren Layla, Luna, and Fadi. Also, Abdulrahim Nasr, Chali, and his family came together to build a water project that was utilized to help construct the mosque. Upon its completion, the surrounding village is also able to utilize this water project. It is over 40 meters deep and requires an electrical power source.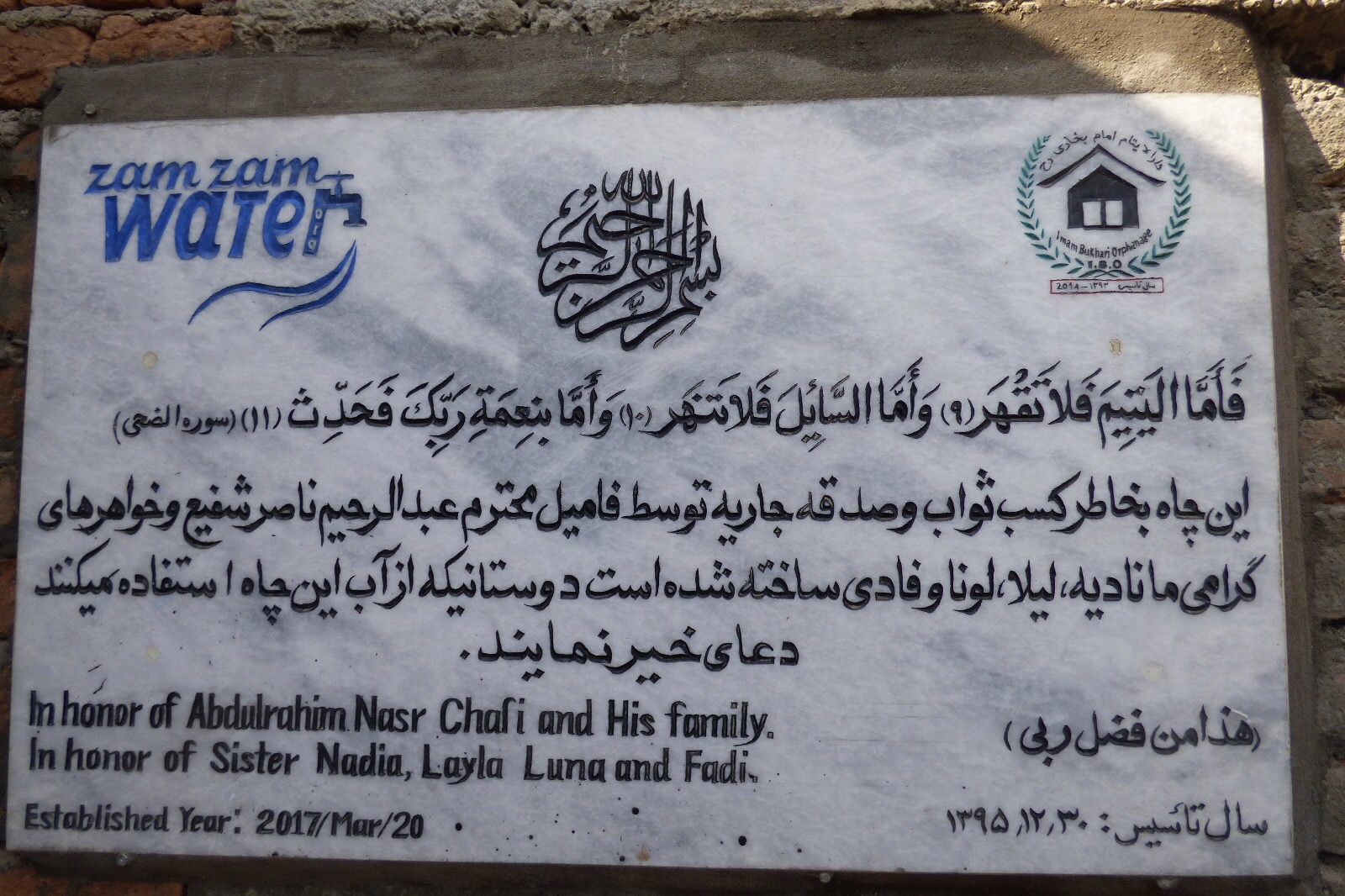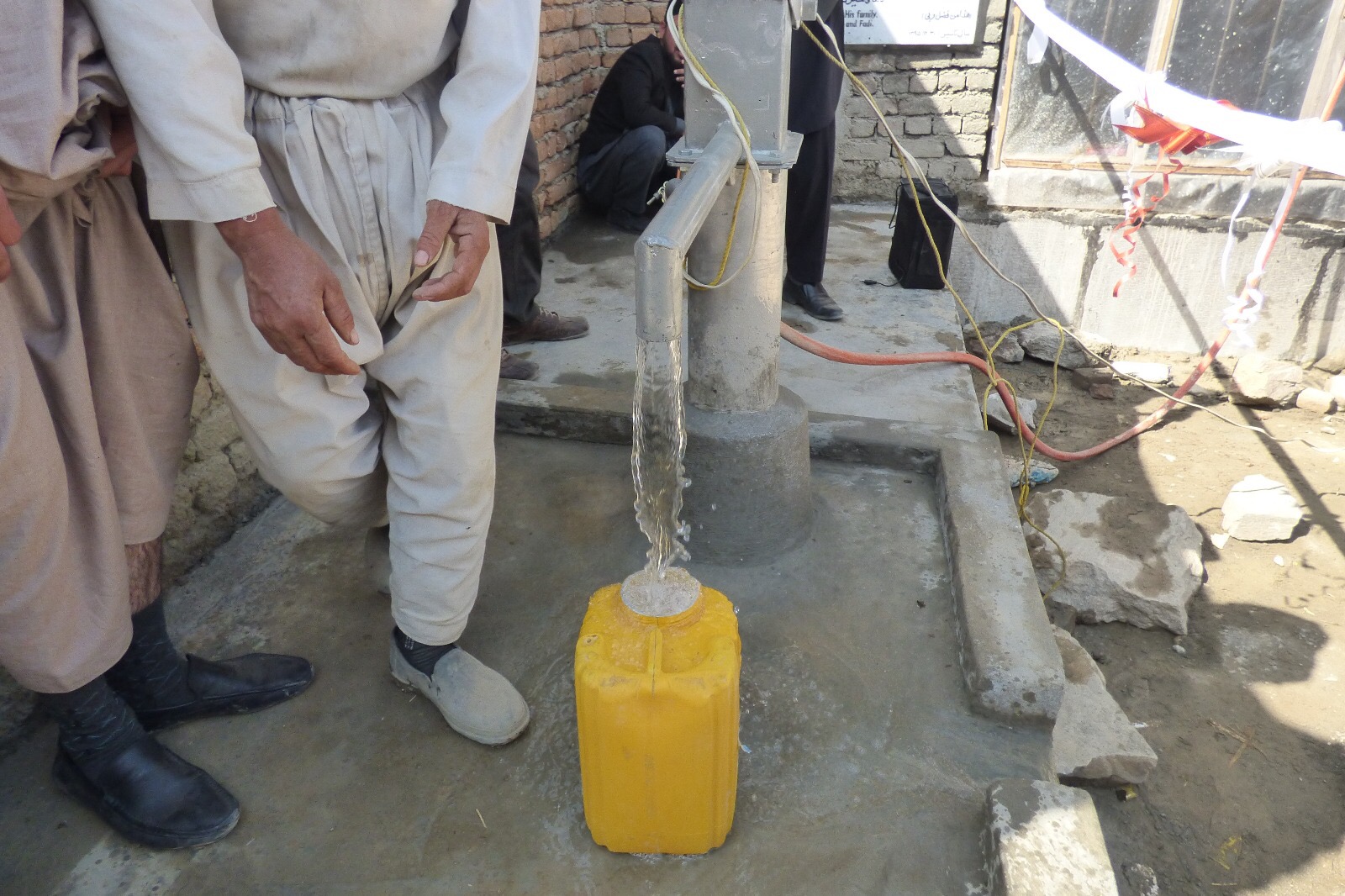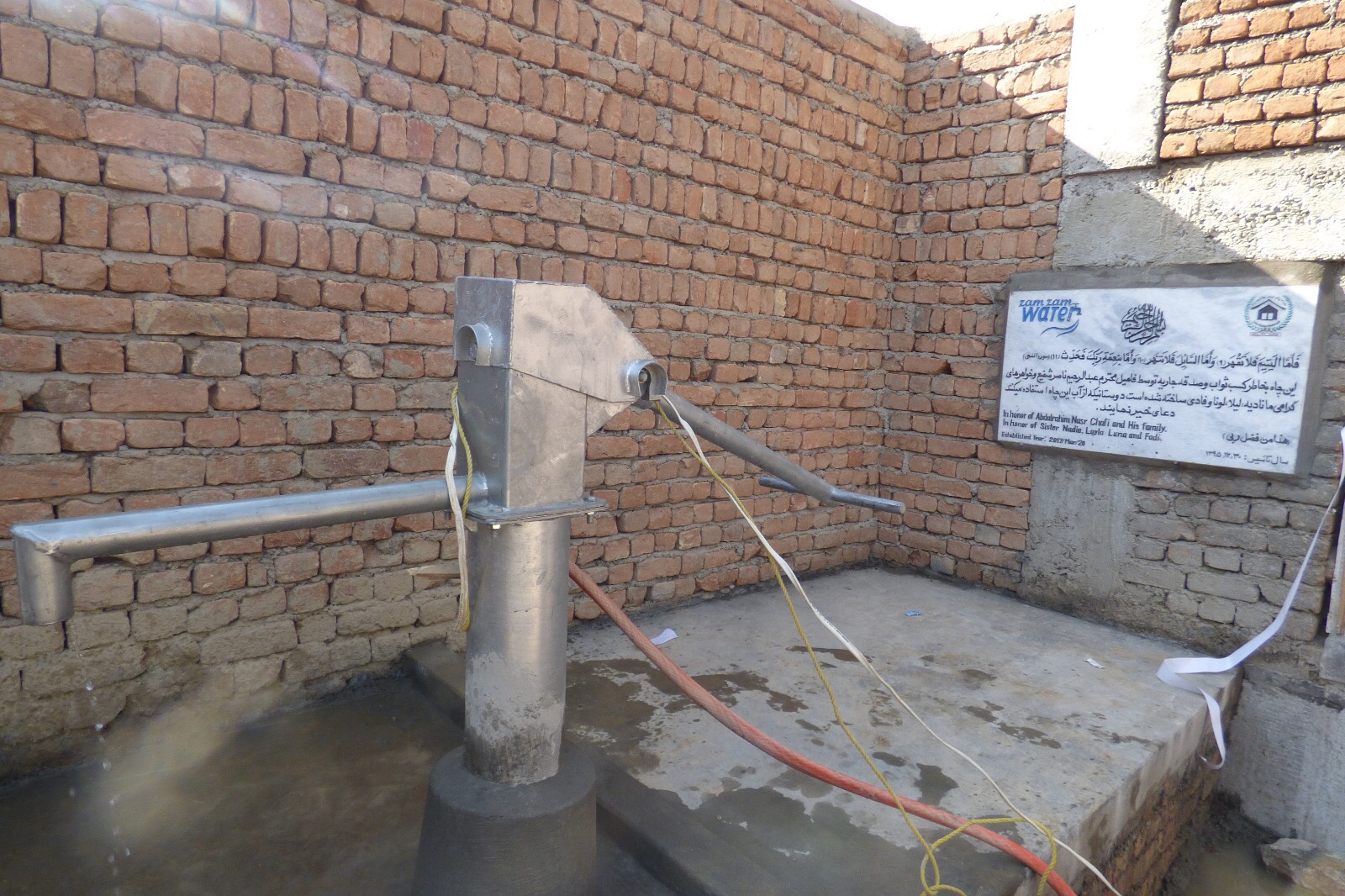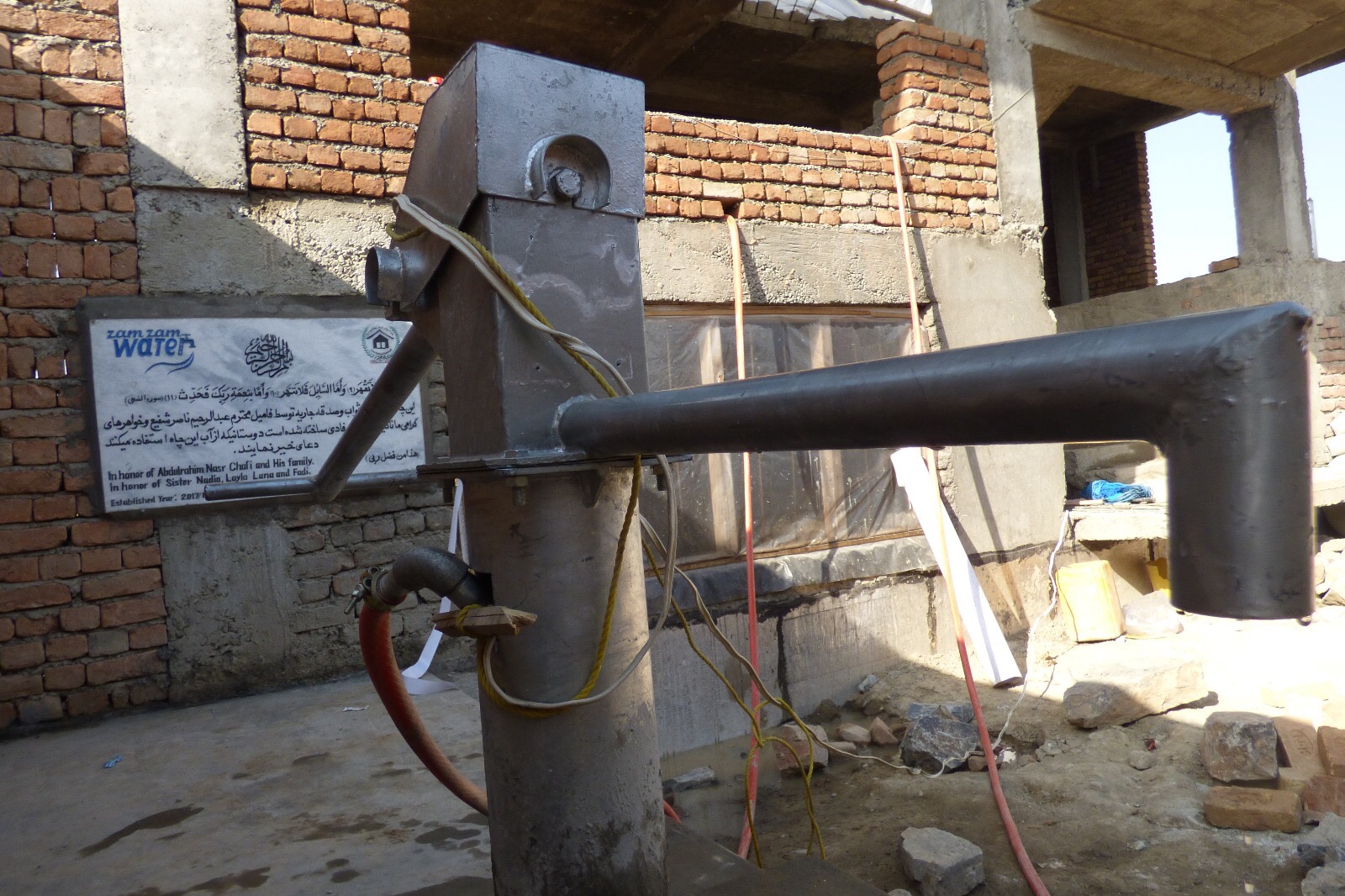 2017 - Paghman Village
Built on behalf of the Nojan Family in Southern California, U.S.A. This project serves over 200 families and is 60 meters deep on the top of a mountainous hill where access to water was extremely difficult and took hours for the villagers to reach.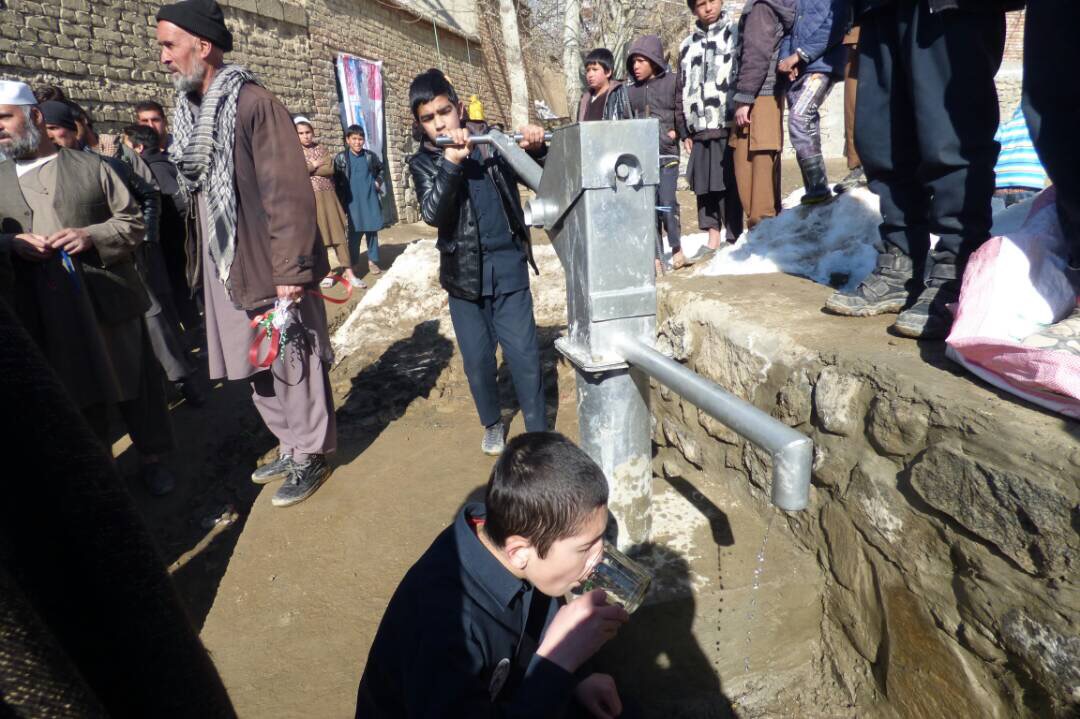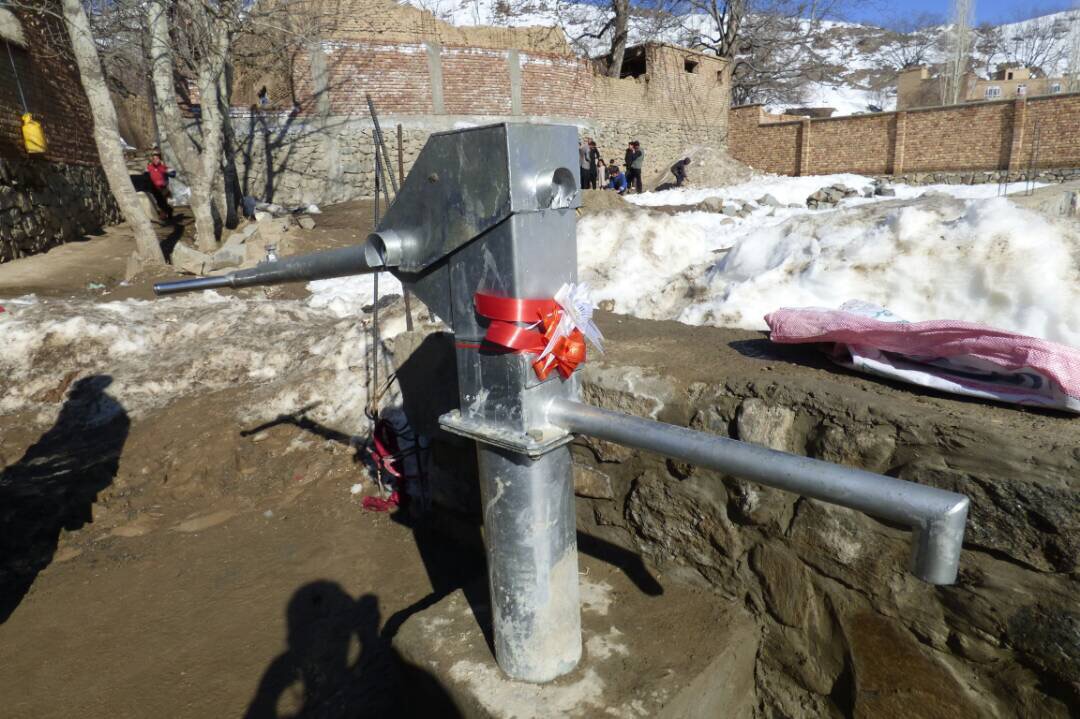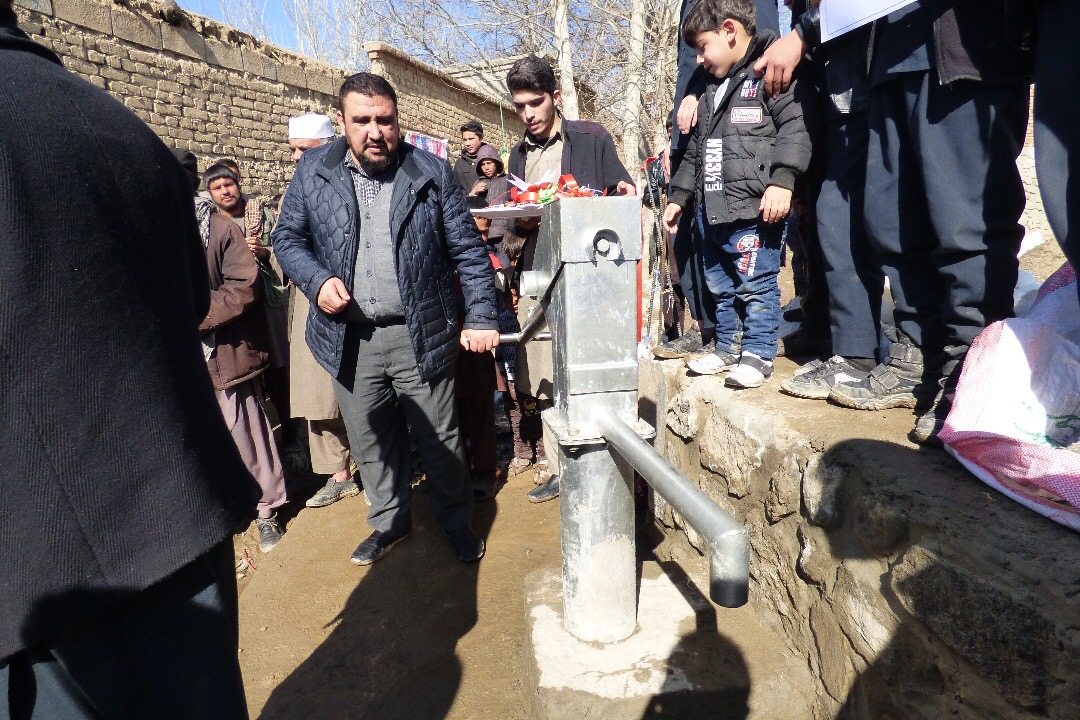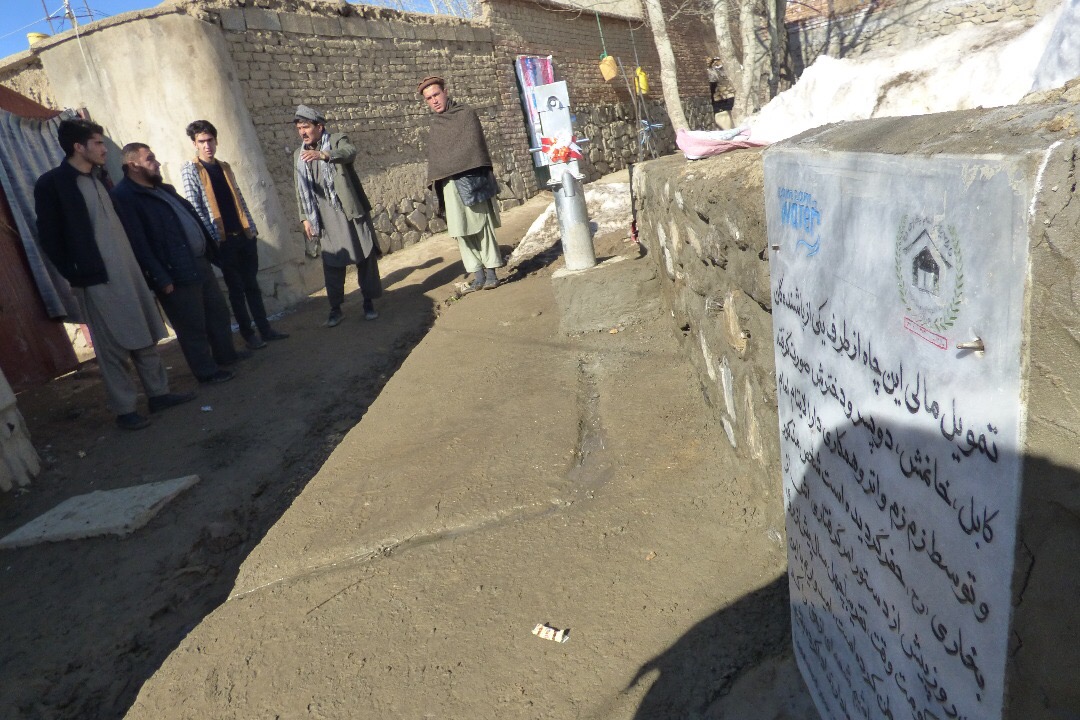 2016 - WASALABAD Village
This project was in honor of Shaesta Kakar, after she passed away due to a battle with cancer. Her husband wanted to honor her by building a water project in her old village. This water project is over 80 meters deep and serves 205 families.
2015 - TARAKHIL Village
Tarakhil is a very unique area due to the amount of animals that live amongst the villagers. This water project is built in honor Bibi Haji Hawa Mohsen. Not only do the villagers use this water source, but the we were able to build a water basin for the run-off water to be used by the cows, goats, and other animals in the village. It is 40 meters deep and serves over 120 families.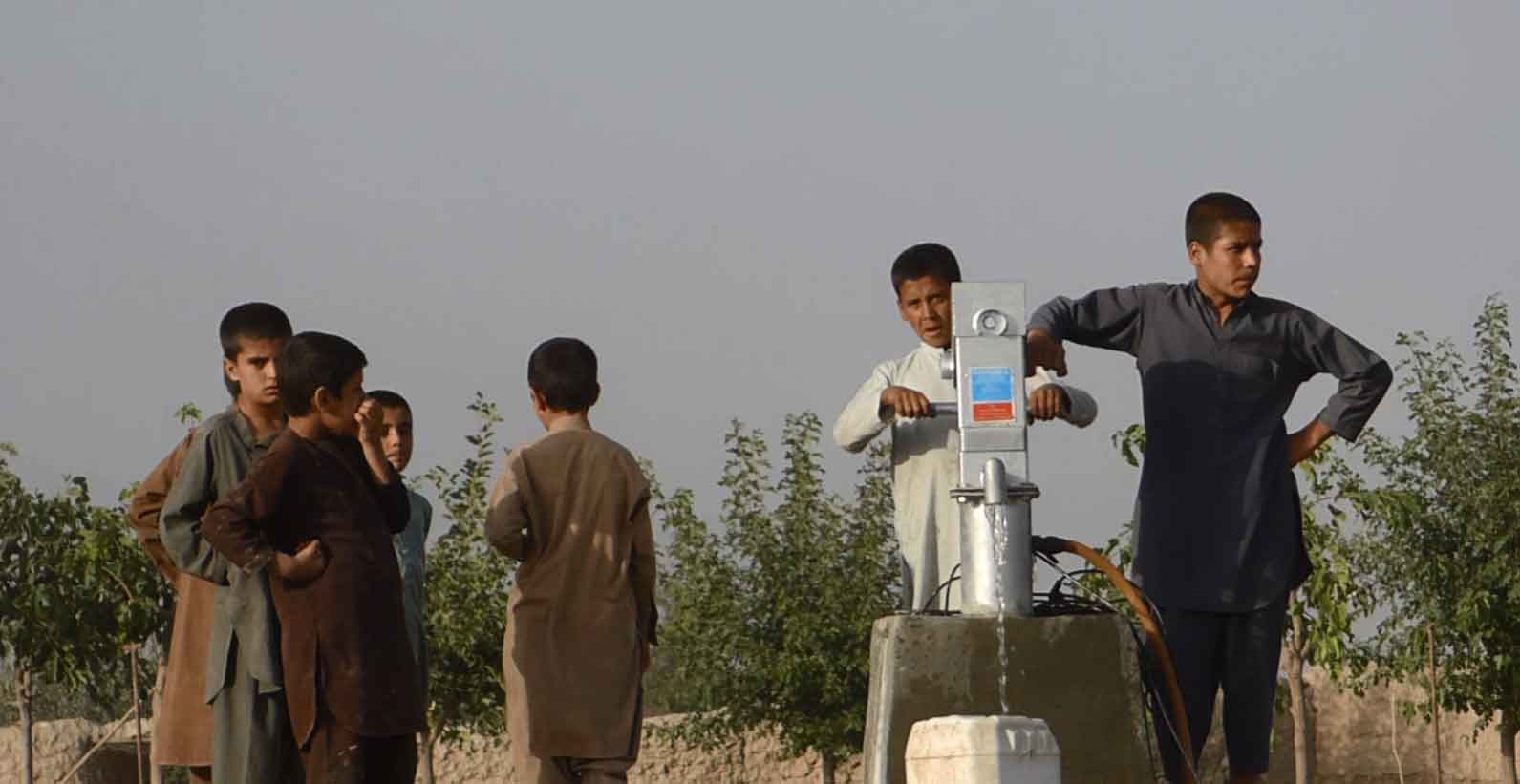 2015 - HASHMAT KHAN VILLAGE PROJECT
Our very 1st water project built in Afghanistan. In memory of Hamid Anwar from his wife, Zohra Samadi and their three children. This blessed project serves over 350 community meters and is 40 meters deep.